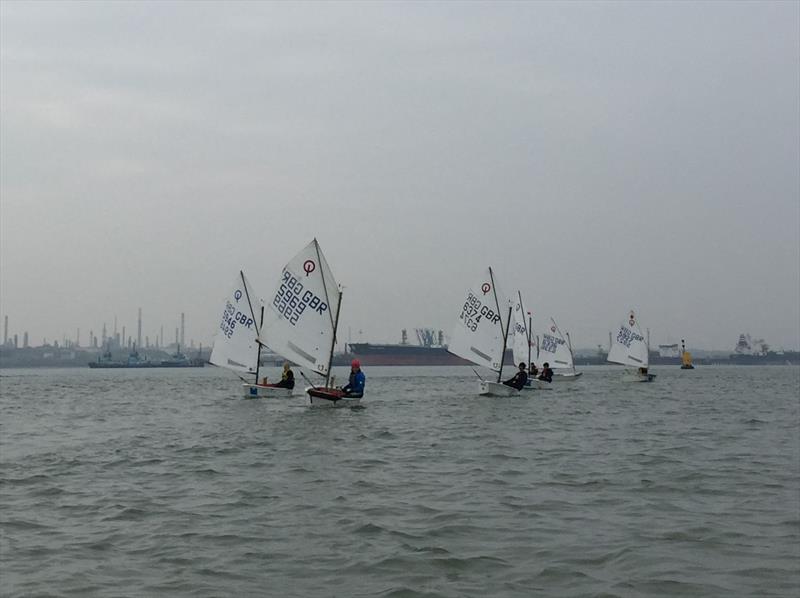 Twelve keen Optimist sailors from Warsash SC, Royal Southern YC and Hamble River SC made the most of the Easter break by participating in two days of training organised by IOCA South in conjunction with HRSC.
Conditions on the first day were "interesting" to say the least as gusts of 25 knots plus whistled through the rigging of the 4,000 boats moored on the Hamble. Coaches Zara Howarth and Ellen Main sensibly restricted a short sail to the more experienced sailors in the group but even then launching and recover in particular were a real challenge.
The day was rounded off with a "hike off", an ideal activity to use up the last reserves of energy before the sailors headed home.
With an early high tide the fleet launched promptly on Tuesday morning for some intensive sessions in the River focused in particular on boat handling and leeward mark roundings. With the tide quickly disappearing the fleet sailed out into Southampton Water after lunch and enjoyed 6 short races out at Bald Head buoy.
Thanks to Rich and the team at Hamble River Sailing Club, we hope to be back in July for more.
If you're interested in hosting some IOCA South training at your club please contact south@optimist.org.uk